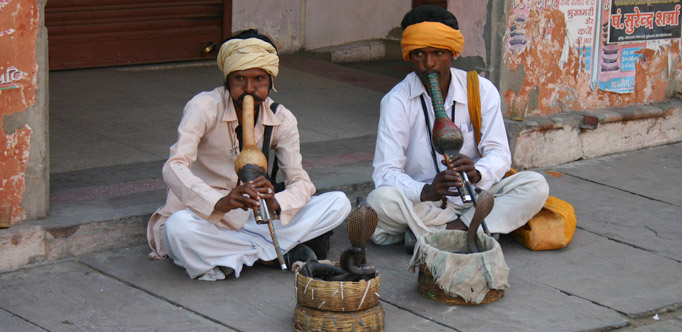 Gujarat 12 Jours
11 Nights / 12 Jours – Mumbai – Ahmedabad – Balaram – Posina – Patan – Modhera – Dasada – Bhuj – Banni
Jour 1 – Abroad – Mumbai
Arrive at Mumbai airport and transfer to hotel for overnight stay.
Jour 2 – Mumbai
Morning after breakfast, proceed for a sightseeing tour of Mumbai - Originally comprising seven islands, Mumbai is now the financial center of India. A tour to Mumbai provides you an unforgettable experience. Sightseeing tour of Mumbai starts with the Gateway of India - the most famous colonial landmark in the city, Prince of Wales Museum - one of the most eclectic museums in India, Hanging Gardens, Victoria Rail Terminus. Last but not the least a drive along Marine drive will prove to be a pleasant experience. Travel to Chowpatty Beach, where exuberance and excitement rule the roost. Overnight stay at the Hotel.
Jour 3 – Mumbai – Ahmedabad (Flight)
Morning after breakfast transfer to Mumbai Domestic Airport to catch a flight for Ahmedabad. Upon arrival at Ahmedabad meet, great & transfers to hotel. Check In to the hotel. In the afternoon visit of half day city tour that include Sidi Saiyyed Mosque developed by Sidi Saiyed constructed in 1573, Hathee Singh Jain Temple is typically fine & made of delicately carved white marble, Gandhi Ashram, Adalaj Step Well, built by Queen Rudabai entrances leading to a huge platform that rest on 16 pillars etc. Overnight stay Ahmedabad.
Jour 4 – Ahmedabad – Posina
(170kms / 4 hours)
Morning after breakfast visit of Calico Museum of Textiles which contains one of the world's finest collections of antique and modern Indian textile. Later drive to Balaram Palace resort. Overnight stay Balaram Palace resort.
Jour 5 – Posina
Morning visit of Tribal Villages around Posina. It is a centre to see Garacia tribal and also Bhil & Rajasthani rabaries can be seen near Ambaji. Ambaji is temple of mother goddess Amba. In the noon after 3pm again visit of Tribal villages. Overnight stay Balaram Palace Resort.
Jour 6 – Posina – Patan – Modhera – Dasada
After taking the breakfast drive to Dasada. In between visit Patan Patola Weaving famous for silk saris, and Modhera step well – a world famous sun temple. Then continue drive to Dasada. Overnight at Rann Riders.
Jour 7 – Dasada
Morning after breakfast, visit to the little Rann of Kutch to see the various types of Birds like Flamingo, Duck, Crane. Also we can see here Asiatic wild asses, blue bull. In the evening take village safari to see experience of Bharwad, Rabari Tribal. Evening dinner & overnight stay Rann Riders.
Jour 8 – Dasada – Bhuj
Early morning drive to Bhuj, in the evening visit market area of Bhuj as well as Foreign Registration office to take a permit to visit Banni Tribal area. Overnight stay Bhuj.
Jour 9 – Bhuj – Banni – Bhuj
Excursion visit of Banni villages to see the various peoples like Jat, Harijan, and Meghawal, Mutva etc in various villages like Hodka, Ludiya, and Dhordo. Normally Jats are not allowed to be photographed. To carry packed lunch and enough water is must required in these remote areas, as nothing except tea is available. Overnight stay Bhuj.
Jour 10 – Bhuj – Mandvi – Bhuj
Excursion visit to Bhujodi village then drive to Mandvi to visit Rabari village after Tunda Wandh near Mandvi. Also visit of Beaches & Palace at Mandvi. We can eat at Gujarat Tourism restaurant on the beach of Mandvi or near Vijay Vilas Palace. Overnight stay Bhuj.
Jour 11 – Bhuj
Morning visit of Bhuj Local City Tour includes Aina Mahal, Prag Mahal or excursion visit to Dholavira. Dholavira is an example of ancient Harappa civilization. Overnight stay Bhuj.
Jour 12 – Bhuj – Mumbai – Abroad
Departure transfer to Bhuj Airport to catch a flight for Mumbai. Upon arrival in Mumbai transfer to Mumbai International Airport for a flight to onward destination.
All of our sample tours can be customised to suit your personal preferences, or request your own personal tour of India.